Kaspersky Anti-Virus Update 7 December- 2007
08 December 2007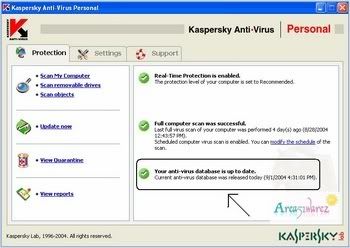 Kaspersky AntiVirus Update description:
Sets of threat signatures and databases of network attacks
This is a special update application to install the latest virus databases and various fixes to AntiViral Toolkit Pro for Windows 95/98/NT version 3.0.129 and above.
Use this if you already have AntiViral Toolkit Pro installed.
The standard antivirus databases currently contain 433797 records.
It is essential to update antivirus databases on a regular basis. If you do not do this, your antivirus program will not detect new malicious programs. This is why we release updates every hour, to ensure that users are protected against the latest malware.
Antivirus solutions from Kaspersky Lab not only detect malicious software, but other programs which are potentially harmful, such as:
- Adware
- Remote administration programs
- Utilities which can be used by malicious programs or users